Searching for Ideas for Tiles In Small Bathrooms?
The city of New York is the land of dreams, and the finance capital of the world. Due to its popularity, the standards of living will require you to trade-off space. This is why living in an apartment with a small bathroom is the norm in NYC.
When designing or undergoing a bathroom remodel, the right choice of tiles can transform a room into a spacious, beautiful area in your home. But with so many ideas for tiles in small bathrooms, finding the right design can seem endless. There are so many variations to choose from in the color, pattern, and size of the tiles.
When designing a small bathroom, you need to be purposeful in all the decisions you are going to make. Most importantly, take into careful consideration the bathroom tiles you will use because the tiles are the first thing you see when entering the bathroom.
Let's break it down by stepping back and taking an objective look at your small space. This article gives you all the design tips you need to transform your small bathroom, with great ideas for tiling small bathroom walls and floors.
Practical Ideas for Tiles in Small Bathrooms
Small mosaic bathroom tiles are often a popular choice for tiling a small bathroom. But have you ever thought about how large size tiles could look? Large tiles can actually be very transformative for a small bathroom.
Examples of large-size tiles include:
Rectangular shaped tiles
Square tiles
Wood plank tiles
When choosing the colors of the tiles, you might be tempted to stick to lighter shades only. Don't limit yourself, though. Dark colors are also elegant depending on how you have installed them, adding appealing contrast and drama.
Let's move on to discuss the different designs.
RECTANGULAR TILES IN SMALL BATHROOMS
Small condos and apartments are common in NYC and even smaller bathrooms take up little space. But you can add an eye-catching touch with rectangular tiles. Rectangular tiles in a small bathroom are fantastic.
Rectangular tiles can be installed vertically or horizontally, depending on your preferred look. You can also set them at a 25% offset or a straight lay. Off-white-colored rectangular tiles installed vertically at a 25% offset can look very effective.
USING SQUARE TILES IN SMALL BATHROOMS
Using the square tile in your small bathroom space can undoubtedly give large design versatility. The small size tile includes 4×4 and 6×6. When planning the installation, opting for a polished and glossy look that can reflect light, or a matte effect, are both good options.
SQUARE TILE PATTERNS IN SMALL BATHROOMS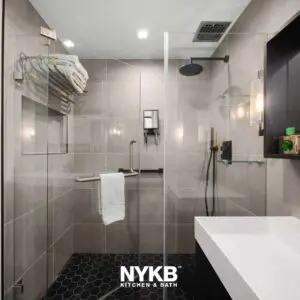 Some NYC homeowners imagine that strong decorative tiling patterns may give a busy look to a small bathroom, which is not necessarily the case. Tile patterns can be so instrumental when you want to add some level of visual interest and also create a sense of space. Typical decorative designs are made by connecting four small tiles with the same pattern.
SQUARE TILES ON THE DIAGONAL IN SMALL BATHROOMS
Square tiles can be the best tiles for a small bathroom when installed on a diagonal. They emphasize spaciousness and give a dramatic look to the bathroom. With contrasting colors, you can create a checkerboard.
Also, for bathrooms with a vibrant wall covering, a muted visual interest piece can be added to serve as a counterpoint.
LARGE-FORMAT TILES IN SMALL BATHROOMS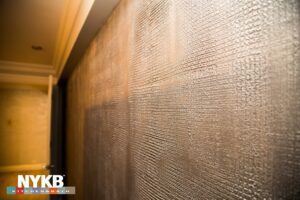 Large-format tiles are excellent for smaller bathrooms, which has much to do with the grout joints. When the tiles are large, you will have fewer grout joints, creating a greater sense of the bathroom's spaciousness. Using large plain white tiles gives the impression of a spacious and clean bathroom.
Using large format tiles allows you to have fun with different grout colors. Also, large format tiles are highly polished, and they reflect light, something that a small NYC bathroom could do with, given the squeezed spaces. Large-format tiles also look beautiful when installed on the diagonal. Installing dark-colored matte-finished large format tiles in your small bathroom brings a warm and cozy effect and does not feel small or claustrophobic.
WOOD PLANK TILES IN SMALL BATHROOMS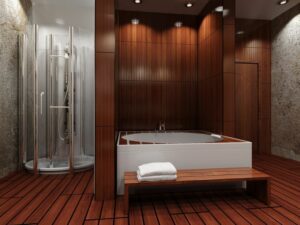 How about considering wood plank tiles for your small bathroom? They can be fabulous, and can be installed in an offset or herringbone design. There are different herringbone designs; pick one that gives the small room the look of a tile rug.
SMALL/MOSAIC TILES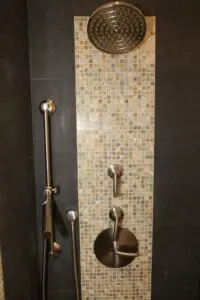 Having mosaics on the floors of small bathrooms is also a good idea. Some of these designs are ceramic, marble, stone, and decorative tile designs that add color to the tiled shower without overpowering it. For example, in your tiled shower, you could have a black and white basket weave design on the bathroom floor, which can work so well with a darker shower wall mosaic.
WHAT IS THE BEST TILE COLOR FOR A SMALL BATHROOM?
When searching for the best ideas for tiles in small bathrooms or any sized bathroom, most of the time, white is the most popular choice of all possible tile colors. This is because white makes the room appear spacious, but you don't always have to stick to white. Again, bright and dark colors are unique depending on how well they are installed.
Here are some of the fantastic colors that can beautify your small bathroom.
WHITE TILES
They are the most popular tiles in small bathrooms. The bathroom will look bigger and brighter with white tiles. If white tiles feel a little boring, you can choose to bring nature into them using plants.
GRAY TILES
Gray tiles are a good choice for more warmth in your small bathroom, while at the same time using a neutral color on the tiles. Gray tiles give your bathroom a luxurious and light look.
However, if you feel gray might be dull you can include some interesting design features for your bathroom to add uniqueness. For instance, you can have a ribbed glass wall and a ribbed bathroom sink.
Installing dark gray tiles can work well for small bathrooms. With a glossy gray tile, you will achieve a reflection of light. One color example that gives a bright touch, is having dark gray wall tiles combined with a green vanity and toilet, and a combination of black, white, and yellow floor tiles.
BLUE TILES
Blue tiles are a calming, pretty choice in a small bathroom. Both dark blue and light blue tiles have their own advantages and can work well in different ways for your bathroom. A small bathroom with a large window in the shower, for instance, will provide a nature vibe when it has light blue tiles.
Note that when you use any dark-colored tiles, including dark blue, you will need to pick glossy tiles. Glossy tiles make the dark tiles feel less dark, because the gloss in them reflects the light back.
PINK TILES
Ever thought of having pink tiles on the floor of your small bathroom? Pink makes everything look rosy and good, and that includes your bathroom. Nowadays, the light pink shade has almost become neutral. You can achieve a cheerful, soft, colorful bathroom look with pink tiles.
Vertical pink tiles are suitable as they make small bathrooms appear roomy. You can also mix the pink tiles with blue for an interesting pattern. Adding an excellent geometric design to your bathroom tiles can also achieve a fun, modern look.
GREEN TILES
Green tiles are also beautiful, and are often trending in current bathroom decor. If you are one of the people who like your bathroom to have a natural look, then green tiles are an excellent choice. You can choose dark green tiles for a moodier and natural effect. Remember to ensure that the dark green tiles you choose are glossy.
BLACK TILES
Black tiles can give a rich look to small spaces. If choosing to install black tiles, ensure that you have paid good attention to the bathroom's lighting. Tiles of this color need good lighting, and are best when glossy (just like all the other dark tiles). Use black tiles by all means but be careful not to allow them to make your bathroom feel dark.
BATHROOM FLOOR TILE COLORS
Colorful wall tiles are great, vibrant and cheerful. But if you are not sure about putting colorful tiles in your bathroom, you can always decide to use a touch of color on the floor. With white wall tiles as a base, your bathroom will have a fresh look; it will have bright light and be enhanced by the colorful accents.
An example of using color in a bathroom is a small bathroom with pink-white floor tiles boardroom; this is where white subway tiles are combined with pink and white floor tiles, adding a colorful and lively look. There are plenty of other color combinations and patterns that could be used to add a beautiful splash of color to your bathroom.
Additional Great Ideas to Improve Your Bathroom Space
Creating a highly functional space that looks elegant can be challenging. You can make your small bathroom appear spacious by using the following tricks:
Include lots of natural light. It makes the bathroom look brighter and larger. Small spaces tend to seem dark so incorporate as much light as possible.
Paint the ceiling the same color as the walls. This helps to continue the room's seamless appearance through the entire space so that it appears bigger.
Install tiles to the ceiling. This will ensure no horizontal dividing lines on the walls, which opens up the space and gives the impression that the ceiling is higher.
Use clear glass shower doors. Shower curtains and patterned glass can make the bathroom look tiny. Transparent glass shower screens reflect light better and open up the space.
The larger the mirror the better!. Reflecting more light makes the bathroom look more extensive. When choosing a mirror to hang up, don't go for a small one.
Utilizing Design Ideas for Tiles in Small Bathrooms
NYKB, masters in New York bathroom renovation, can tailor the best design for your space from a wide range of ideas for tiles in small bathrooms. If you're looking to give your bathroom (or any other room) a magnificent makeover, contact us today.
With over 20 years of experience improving homes in New York, we at NYKB have what it takes to transform your home.