Choose from Different Types of Shower Glass Doors
A simple shower glass door can add so much to the mood in your bathroom, and give it a sleek, modern appearance. But, with so many varieties and types of glass shower doors available, you may be scratching your head wondering which one will work best with your bathroom design.
In general, when deciding between a shower curtain or glass door, glass doors are recommended. They are more hygienic and less likely to grow mold than shower curtains. Additionally, glass doors are simpler to maintain – who doesn't prefer shower doors that are easy to clean? They are also luxurious and will therefore increase the value of your home if you wish to rent out or sell.
With so many options and different types of glass for shower doors, it's important to know the potential advantages and disadvantages that come with each one. When making this decision, the main considerations to take into account include:
Style
Budget
Privacy
Ease of cleaning
Pros and Cons of Multiple Types of Shower Glass Doors
Join NYKB, masters of home remodeling with over 20 years of experience, as we share the pros and cons of glass shower doors.
1. Clear Glass Shower Doors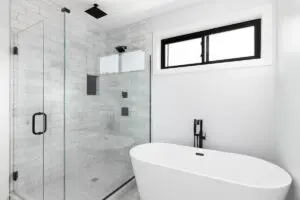 Clear glass shower doors are the most common choice. They are transparent but with a slight green tint. However, most people fail to notice the hue of the glass. Clear glass shower doors are available in a variety of textures, and they also complement any décor style.
The transparency of these doors allows you to view both inside and outside the bathroom. This may be good or bad, depending on your needs. The transparency also creates the impression that smaller bathrooms are expansive.
Pros
Glass shower doors have a modern aesthetic, instantly upgrading your house.
Cleaning glass shower doors is simple. Additionally, it's easy to notice dirty stains or traces on the glass. Wipe the water off the glass after every use to avoid dirt accumulation and glass discoloration. Regularly clean the glass with a window cleaner to prevent cloudiness.
Doors made of clear glass are versatile and will enhance any bathroom design. If you're considering a bathroom renovation, a clear glass door will give your space a modern look. Additionally, the sophistication of this design will remain a timeless classic.
Dull and dark showers can become a thing of the past, as clear glass doors let in all the light.
Cons
Lack of privacy
Attracts smudges and fingerprints
More expensive compared to other options
2. Low Iron Glass Shower Doors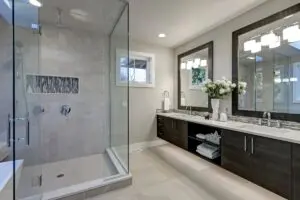 A low iron glass door is very similar to clear glass shower doors, without the greener tint. To improve clarity and remove the green tinge, manufacturers use low-iron mixtures. When it comes to color matching, this aspect is crucial. If you want your bathroom background exposed, low-iron shower glass is a better option. Your showers will also be brighter as more light can enter the bathroom.
Smudges, spots, and fingerprints are very noticeable on low-iron glass doors. Therefore, homeowners will need to clean the door regularly. As for privacy, this shower glass provides no cover.
3. Textured Glass Shower Doors; Frosted, Rain, and Hammered Glass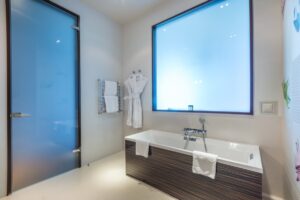 These doors work well if you live with others but need a nice private bathroom. There are plenty of different distinctive textured alternatives available.
Manufacturers use acid or sandblasting to etch one side of the glass to make frosted glass, creating a sheer glass door that affords more privacy. However, the opaqueness of the glass can make the space appear smaller.
Rain-textured glass shower doors are another standard option, with texturing on one side. These doors enable more light to enter because they are not frosted. Rain glass doors also offer more privacy due to the texture of the glass. Unlike frosted glass shower doors, rain glass doesn't collect dirt. Rain glass also conceals watermarks and fingerprints. This lovely and distinctive-looking glass creates a spa-like atmosphere in any bathroom.
Hammered glass is another common type of textured glass with regular indentations on one side that resembles hammered metal. These doors offer some privacy while still allowing for plenty of light.
Pros
A variety of designs and patterns are available.
The glass creates a unique, distinctive flair.
The glass gives more or less privacy depending on the design. (There are other ways to increase privacy in the bathroom aside from these shower glasses.)
Cons
Difficult to clean, especially the textured side, as soap scum can build up in the pits.
Depending on the style, it might be an expensive alternative.
4. Tinted Glass Shower Doors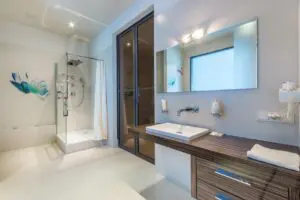 Tinted glass shower doors allow you to see through the material. However, the darkness of the tinting reduces the amount of light that passes through them. Tinted shower glass will give your bathroom a distinctive, modern look.
The color selections offer several options ranging from light to dark tints. The darker the coloring, the more privacy the glass provides. If you have an older or more rustic home, use black and gray colors to avoid ruining the vintage appearance.
Pros
Available in a wide selection of colors
They provide a unique look
Cons
Potential difficulties when renovating with different colors
Some colors are more prone than others to showing buildup or scratches
Types of Shower Doors
The final selection for your bathroom door is the door type. Before selecting your bathroom door, it's important to know the many different styles of glass doors. Here are some of the options available:
A) Sliding Glass Shower Doors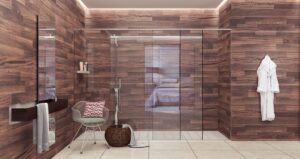 With limited space, a sliding shower door is often the best choice. It is more modern than a shower curtain, but the frame will need frequent cleaning.
B) Fixed Shower Glass
A shower screen easily fits into small bathroom spaces and is more stylish than a sliding door. There is a bi-fold construction that folds in to open and close, so your shower must have enough space around it to allow for access.
C) Swing Shower Door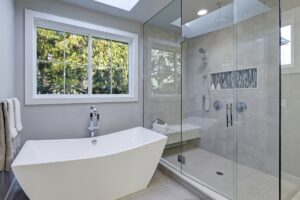 Because it swings open like a standard shower door, this kind of door might not fit in a very small bathroom. Since there is no frame, it is modern and simple to clean.
Framed or Frameless Shower Doors?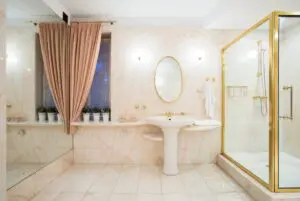 Whether to choose a framed or a frameless glass door is the last decision to make. We'll explore the difference below.
Framed Doors
Framed doors have defined and sealed edges that keep water from leaking out. However, without regular cleaning, it can easily collect dirt and mold. Framed shower doors have a standard structure and size. Compared to frameless glass, they are less expensive and easier to install.
Pros
Cheaper alternative
More effective in stopping water leaks
Cons
Less accessible design alternatives
Challenging to clean
Custom Frameless Glass Shower Doors
Custom frameless doors are available to accommodate your shower area. The shower is easier to clean due to the unhindered glass panels, and there are fewer hiding areas for soap scum and buildup.
With frameless, there are fewer options for completely enclosing your shower. If not properly installed, water may leak onto the floor. However, this isn't a problem if the bathroom area is larger or has a walk-in door.
Frameless designs cost more because of the glass's thickness, size, and more complex installation. Strong nuts and bolts are needed to stabilize these doors.
Pros
Many customizable choices are available
It is easier to clean
A fantastic improvement that increases return on investment
It can enlarge the appearance of your bathroom, which is excellent for smaller areas
Cons
Costlier alternative
Less resistant to water leaks
Choose the Perfect Glass Door for your Bathroom
These are just some of the factors to take into account for your bathroom renovation. At NYKB, we'll clarify the varied types of glass shower doors and guide you through making the perfect choice. We also fit custom shower glass doors for your new shower or tub, cut to the exact size. Contact us to learn more about glass shower doors or to book a free home consultation. Together with NYKB, your home can be perfect.