ULTRACRAFT
There's nothing like custom
The Ultracraft Difference: as a cabinet manufacturer
that focuses solely on full overlay, full access cabinetry, all American-made, Ultracraft is an expert in providing you the look and feel that you desire. Since Ultracraft cabinetry offers up to 15% more usable space than manufacturers that rely on framed construction, you'll be able to fit more items into your existing footprint. And because Ultracraft continually seeks out and adds the latest in ergonomic and functional hardware as well as the latest organizational accessories, you can rest assured that your kitchen will be as functional as it is beautiful.
DURA SUPREME
U.S.A. made any style cabinets 
Classic craftsmanship and solid construction serve as the foundational pillars. Dura Supreme cabinets excel at blending state-of-the-art technology to achieve precision and customized design. Their cabinetry is meticulously sized and built to seamlessly integrate into homes, catering to the unique needs of each kitchen and family. Their precise construction methods ensure long-lasting performance, even in the most demanding areas of a home. With a wide array of beautiful door styles, soft-close drawers and hinges, luxurious and durable finishes, along with one-of-a-kind design elements, these cabinets are uniquely designed and built for our customers.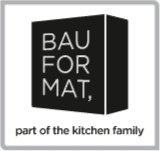 BAUFORMAT
Bespoke German design

The "Made in Germany" hallmark of quality extends far beyond its roots and manufacturing base. German quality is the yardstick and overriding maxim in all areas of production within Bauformat. State-of-the-art mechanical production and high environmental standards are coupled with skilled craftsmanship to create a highly automated work process.
CONTEMPORARY FOR YOUR HOME

In addition to top kitchen brands like Ultracraft, Showplace, and Bauformat, NYKB offers a complete line of custom-built cabinets with an impressive variety of laminates and high-end finishes.
MODERN DESIGNS AND FUNCTIONAL SPACES

Because we carry leading brand-name European and American products, your cabinets, countertops, and tiles will not only be of the highest quality but will also match any style you specify.
GREEN DESIGN
STANDARDS


NYKB adheres to green standards. This provides you with the best design and construction while, throughout the process, minimizing the carbon footprint.
Let us come to you. A certified interior design expert will meet with you at your location.