If you are thinking about renovating your Manhattan kitchen, here's a list of kitchen upgrades that's essential for all New York City homeowners.

KITCHEN CABINETS
Everyone can agree that new kitchen cabinets are an investment in your home. There's more to consider in this category other than cost. You also need to think about functionality. The options for kitchen cabinets can seem endless and cause you to feel overwhelmed. It's essential to do your research in this category, and I encourage you to walk through as many kitchen showrooms as you can – to touch, feel, and experience the differences between brands. The brands NYKB carries are Ultracraft Cabinets, Bauformat Premium European Cabinetsand Showplace Cabinetry.
– KITCHEN CABINETRY: WHAT TO CONSIDER
List your wants and needs
Research pricing
Have an idea of what layout will work best for your home
Go to kitchen showrooms
KITCHEN KNOBS AND PULLS
One of the easiest and inexpensive ways of updating your kitchen is swapping out your kitchen knobs and pulls. Be aware of lightweight knobs, they're mostly hollow in the middle and made with cheap materials – it won't last! Look for a higher quality knob, so you don't have to swap them out the following year.
KITCHEN SINK
It's essential to choose the right one. The size, width, and style all matter depending on each kitchen. When considering a sink, please remember it needs to be able to handle your family's needs and also serve as a focal point in kitchen design.
If you were asked what's the most used item in your kitchen, the answer would be your kitchen sink. This is why it's essential to choose the right one that will work best for your family. Think about the size (double or single), style, material. There are countless options when choosing a kitchen sink. Be sure to choose wisely when considering your kitchen sink, remember it needs to be able to handle your family's daily needs and also not to be an eyesore of your newly renovated kitchen.
KITCHEN FAUCET
If you are updating your kitchen sink, it will be best also to update your kitchen faucet. This is because the new faucet will need to fit into the existing sink that will limit your choices.
                  – KITCHEN FAUCET WHAT TO CONSIDER
Spout height and reach
Pull-down vs. conventional sprayers
Single vs. multiple handles
WiFi touch faucets
Voice Activated Technology
KITCHEN BACKSPLASH
Don't miss the opportunity to show your style in your kitchen backsplash. Whether your backsplash is tile, glass, stone, metal, brick or wood, there's a wide variety of functional backsplash options out there to choose from. We've found a lot of success having our clients choose their kitchen countertop first, then move into choosing their backsplash. Once you select the material, and if it's tile, don't forget to choose the right color for your grout – very important to showcase your kitchen backsplash.
                  – KITCHEN BACKSPLASH QUICK TIP
If you decide to choose tile for your kitchen backsplash, we recommend purchasing 25% more for tile that is to be cut and has the potential for breakage.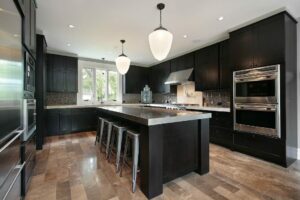 KITCHEN FLOORS
Kitchen floors have a big job to do: they've got to stand up to a lot of foot traffic, shrug off spills and stains, and look fabulous while doing it. Fortunately, you've got a lot of choices. The materials we recommend for your kitchen floors are;
Hardwood flooring combines warmth and beauty and is comfortable underfoot. It's a good choice if you have an open floor plan and want a single type of flooring that extends beyond your kitchen. Hardwood combines durability with low-maintenance.
Cork is waterproof and resilient, which makes it a comfortable, moisture-resistant choice for kitchen floors. Cork comes in 12″ x 12″ tiles and 1′ x 3′ planks, each with grain patterns. Cork is made from tree bark that grows back, so it's a sustainable material – significant plus! It comes prefinished, but keep in mind this material needs to be resealed every 3 to 4 years to help prevent scratches and stains.
An excellent choice for kitchens where spills are likely and looks are important, porcelain kitchen tile flooring is the champ. It's an upgraded version of regular ceramic tile because of a manufacturing process that makes it harder and less porous. Porcelain tile comes either glazed or unglazed. Glazed tiles come with a glass-like coating that can be made in any color. Unglazed porcelain tiles have the naturally earthy color of the clays used to make them.
We encourage you to start your process by coming into our 8,000 square foot kitchen and bath showroom in the Flatiron district. The NYKB showroom is located on 8 West 25thSt. If you can't make it into our showroom, feel free to contact us by email info@nykb.com or by phone 212-242-3500 to schedule a free (no obligation) one-on-one design consultation.
We look forward to seeing you!!