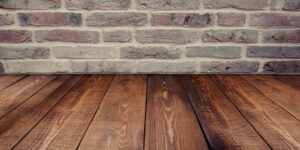 Flooring has evolved quite a bit over the years. Everything from carpet to wood and tile, there are more options available than in the past. If you can't decide which flooring material to use, the answer to that depends on what your needs are. Do you want hardwood or ceramic? How about porcelain tile? Ideally, flooring materials should be durable and easy to handle–to give you peace of mind.
Let's look at these options and help you figure it out.
Think of Your Budget
Notably, different flooring materials vary significantly in price. For example, laminate flooring costs about $3 per square foot, while high-end hardwood can cost $20 per square foot.
If money isn't an issue, go ahead and spend! Look at samples in person before buying anything online. Some stores have sample boards set up so you can see how they look.
Consider the Maintenance
Some flooring requires more maintenance than others, so it's essential to consider this before deciding. Vinyl tiles are durable and easy to clean but require regular vacuuming and steam cleaning. Laminate flooring is another option that requires less maintenance than carpet.
How Durable Is It?
When choosing a flooring material, the first thing you should think about is how durable it is. If you're going to be walking on it all day long, or if your children or pets will be playing on it (or both), you want something to handle the abuse.
You also want to make sure that the material is resistant to water damage and stains. Stain-resistant vinyl flooring can help protect against spills and other potential messes throughout your home or office space.
Let's Talk About Location, Location, Location
The location of your house or office plays a huge part in determining what kind of flooring material you should use. For instance:
If your home or office is in an area that gets a lot of rain, tile, and vinyl flooring will serve you better.
If you live in a hot and dry area, consider investing in engineered hardwood flooring and durable hardwood flooring.
Laminate flooring, vinyl flooring, and carpeting are best for homes and offices in cold regions.
Which Room of Your House Are You Going To Use It In?
Consider using vinyl tile or laminate flooring if you want to remodel the kitchen or bathroom design. It is easy to clean and is durable.
If you're looking for something more traditional, hardwood may be right. It's one of the most popular choices because it gives rooms an elegant look with any style decorating scheme.
If it's a room that gets much traffic, like the kitchen floor, consider installing carpeting instead of hardwood or vinyl. Carpets can last ten years or more with proper care and maintenance.
Consider Your Lifestyle
If you have children or pets, it's essential to consider how much wear and tear they'll put on your flooring. Laminate is less durable than hardwood, but it's also easier to clean up messes or scratches.
Laminate flooring is a popular choice for pet owners with pets that shed or leave paw prints or dents on their floors. Unlike hardwood or tile, laminate doesn't collect as much fur.
Make Color and Pattern a Priority
When choosing your flooring material, color and pattern should be high on your priority list. You want something that will look good in your home and be functional and probably one that will match any décor changes you plan on making in the future.
Look at the Pros and Cons of the Different Materials Available to You
You should know the material you want for your office, kitchen floor, or bathroom design.
Some advantages and limitations of the different materials include:
1.      Hardwood Floors Pros
They go well with any home style and come in various colors and finishes
You can have them refinished, sanded, and stained to match the rest of your house
They are durable, easy to clean, and simple to install
The cost of hardwood is average to high depending on the type of wood you choose, but it's worth it
Limitations
It is susceptible to scratches, dents, and damage from dropping toys or furniture on them–not ideal for homes with kids or pets
2.      Ceramic Tile Pros
Ceramic tile comes in many different styles and colors
Its easy to clean–can be ideal for families with pets or children who like to play on the floor
Limitations
Ceramic tiles can easily break when you apply too much pressure to the tile's surface area
3.      Laminate Flooring Pros
Laminate floors are available in a wide range of colors and styles and are easy to install
They are easy to clean, maintain and repair
Limitations
Several things can damage laminated floors, such as scratches, burns from hot pans or steam mops, and heavy furniture or appliances left in the same spot
4.      Vinyl floors Pros
Vinyl is durable– it can last for years in homes with children or pets
Vinyl floors are easy to clean – you can sweep vinyl floors or vacuum them with ease because of their smooth surfaces
Vinyl floors are versatile and easy to install
Limitations
Vinyl floors are often expensive compared with other flooring materials like carpeting or hardwood flooring
They require more labor-intensive installation processes than other floors
5.      Carpeting Pros
It is cheaper compared to other flooring materials
It is versatile–it comes in many designs and colors
It is easy to install
It can reduce home or office echos and noise
Limitations
It wears and tears out faster in high traffic homes and offices
It requires regular maintenance
It is less durable as compared to other flooring materials
Consider the Traffic Volume of Your Home
Traffic volume refers to the number of people walking on the floor every day. If you have children or pets that run around in the house, consider getting a low-maintenance material like carpet or vinyl so that they won't damage your floors efficiently.
High-traffic area with lots of footfall all day long can do with a hard surface like wood or stone instead so that it will be easier to clean up dirt and debris.
Ensure You Have the Right Subfloor
Before choosing a new floor, it's essential to know what type of subfloor your house has. A concrete slab is ideal because concrete can support the weight of any kind of flooring. If your home has a wood subfloor, you may need to reinforce it before installing new material.
You can add joists or plywood underneath. Plywood adds strength and stability and provides a smooth surface for gluing down the laminate or hardwood flooring.
Don't Forget To Think About Design
Before choosing a material, think about what kind of look you want. What's your dream kitchen design or bathroom design? If you want your flooring to be subtle and blend in with the room's other features, stick with neutral colors and finishes like wood, tile, or vinyl.
If you want something that stands out, consider choosing a patterned or colored material like carpet or stone tiles.
Will It Add Value to Your Property?
If you're looking for an investment-worthy material, then vinyl, hardwood, or laminate is your best bet. These durable materials will stand the test of time and retain their value. On the other hand, poor carpeting can damage the fabric if not correctly taken care of and can lose its appeal over time.
Make the Right Call
Choosing a flooring material is a big decision. Whether it's the office, bedroom, or kitchen floor, it needs your attention. If you're in the process of redecorating or renovating your home, you'll need a material that suits your kitchen design, bathroom design, or your living room space.
There are plenty of flooring materials out there to consider. Fortunately, with careful planning and some know-how, choosing the optimum flooring material for your needs is easier than it might seem.
If you need any assistance choosing a suitable flooring material for your home or office, kindly contact us.