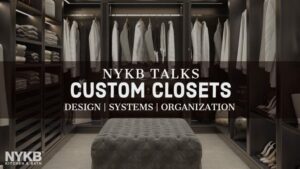 Storage space in NYC is something that is always sought after, extra closet space however, that is pure gold. The City that Never Sleeps is notorious for a lack of closet space, and sometimes even apartments whose size is comparable to a closet itself. Despite this, there are still ways for you to make the most of the closet space you do have, or even create a new closet! While closets are a hot topic in the NYC real estate community, it isn't often discussed how to maximize the space you have and create a closet that is efficient and looks beautiful! We took all of our closet design knowledge and compiled it here so that you have a better idea of what goes into designing a new closet, and how we can help you do it!
Types of Closets
Walk-In Closets
Walk-in closets are what we all hope for, yet seldom in NYC are we able to get these large storage s
paces. The closet can be a few sq feet in area or as large as a room and can be customized as per the need of the user. A walk-in closet can keep your clothes, shoes and other belongings organized; that is why so many people choose to have it. However, due to its function, a walk-in closet takes up more space than reach-in closets or wardrobes. With an array of storage mechanisms, a walk-in can sport pull-out accessories like a shirt pull-out or a trouser pull-out, drawers with dividers, jewelry storage, and more!
Reach-In Closets
Reach-in closets are more typical of what you will find in New York City apartments. Though they are smaller than their walk-in closet cousins, with the width running anywhere between 3 to 8 feet, if organized and laid out well they can fit a lot of your items! It is usually filled in with shelving and closet organizer systems on the back wall. Reach-in closets are perfect for combining various storage options like long bars for hanging the clothes, and shelves and drawers for tucking away pants and shirts. This opens up the storage space and also helps with the organization!

Wardrobes
Unfortunately, some apartments in NYC don't have enough space for multiple closets, and it forces us to get creative with our storage solutions. Wardrobes and armoires are essentially pop-up reach-in closets that can be put anywhere you need them. Wardrobes can be installed directly into the walls as built-in storage, or stand-alone units depending on what is best for your needs. This type of storage normally does not use doors; it is just open for easy access to reach your items, though if you prefer, it can have doors to hide any mess.
Basics of Closet Design
One of the first things to think about when designing a closet is maximizing your storage space. Whether you are designing a walk-in closet, a reach-in closet, or even just a built-in wardrobe layout, considering what you are going to put into the closet, and how you are going to utilize the closet is very important. Will you need shelves or pull out wracks? Do you keep your jewelry in the closet, will that need a space? What materials do you want to use? Coming up with a plan for all of these big questions upfront, will allow you to more easily navigate choosing a closet system (which we'll discuss next).
It can be tempting, when installing or renovating your closet, to fill up an entire blank wall with closet space, but this may not necessarily be the best idea for the design of your overall room. As you are designing your closet, really think about how much space you need and will utilize. Take stock of the items you want to include in the closet as you start to plan, not only will this help you determine the overall size of your new closet but it will also help you start grouping items into sections that can help with choosing your closet system! If, when hung, a particular clothes grouping (for example all of your sweaters you want to hang) is 20" or more in width, it is advisable to plan for this group to have it's own section in the closet.
The final point of basic closet design that we'll touch on, is to design ergonomically. This just basically means that you want to design a closet that is as efficient and comfortable as possible for your needs. No one wants to have to bend down to put a bag away every day, or dig around for their winter coat. Not only will designing ergonomically help keep things organized and easily accessible, but it will keep your closet looking tidy and beautiful all year round!
Closet Systems
Now that you know the most common types of closets, and the basics of closet design, we can move onto the types of systems you can use to actually create a closet! There are a lot of different materials you can utilize when creating your closet, from wood, to wire, to laminate, or even a combination of any of the three. The first group of clothing to consider when laying out your closet is anything that needs a longer space to hang; robes, dresses, jumpsuits, long coats, etc. The rod for long hang sections should be hung 62"-70" from the floor, depending on your height, to give ample vertical space for longer clothing items. While long hang sections are useful in some closets, most people do not need a lot of long-hang space in their closets because their wardrobes primarily consist of two-piece or shorter items. If long items are used less frequently, they can be hung in a corner, behind a door or other less accessible place.
Next, and probably most common, is the double hang design, which is just two short hang rods stacked over one another. How many double-hang sections your closet will need, will depend on your wardrobe. You can add shelves above the double hang if you have very high ceilings to deal with and have selected a greater height for your closet. The double-hang system is great for shirts, short jackets, folded pants, and blouses. Shorter, narrower items, like folded pants and shirts we recommend go on the upper portion of this section because they will be easy to access, easy to see, and just have a cleaner look! Double hang systems should be hung anywhere from 42"-84" from the floor.
Finally we'll discuss medium hang sections. A Medium hang section is generally hung right around the middle of the closet, around 60" from the floor. Generally you can hang anything that you would hang on a double hang section on a medium hang section, you just obviously can't fit as much because rather than two rods there is only one. Any of these sections should have rods no longer than 36" to avoid compromising the integrity of the rod. If you do choose to do a longer closet rod, add in extra support brackets to and prevent sagging and possible snapping!
Putting it All Together
All of the closet systems we just discussed can be combined with shelving, pull outs, accessory sections, and more, you can completely customize your closet to fit your needs! Specialty inserts like belt or tie pull outs can be super helpful and convenient if these are items that you use frequently or have a lot of. A good rule of thumb is, if a gadget involves more than one action to perform its role, you'll probably grow tired of it.
If you have the space, and you want to include your shoes into your closet, we recommend installing shelving or drawers around mid-height so you can easily see and access them without having to constantly bend over. While drawers will allow you to utilize the full depth of your closet, they do tend to be more expensive than open shelving and have a size limitation. Any shelves installed in your closet however should be installed with a purpose in mind. Whether it be for shoe storage, folded clothes, purses, or other items, everything should be planned out beforehand so no storage space goes to waste. Unless you have a very small or uniquely shaped closet where you need custom shelving, utilizing standard sized shelves that are 18", 24", or 30" wide will allow you to insert drawers or storage boxes eventually without much issue. When it comes to the depth of shelves, having shelves that are between 10"-14" will allow you enough storage space while at the same time preventing items to become stuck at the back of your closet and too difficult to reach! This is particularly important when it comes to shelving above your clothing rods, and if done contentiously it will make the need to reorganize your closet over and over a thing of the past!
Finally, some closets have a rather large return wall, greater than 24", you can absolutely utilize that awkward empty space by installing clothing rods, or shelves that run the depth of the closet!
Once you've determined everything that you want to fit into your closet, and you have figured out the best sections and systems for your needs, it's time to measure and get to work! All of these tips are great for any DIYers that feel like taking on a closet overhaul themselves, but if you are looking for a professional touch, our designers are here to help. We have experience not only designing custom clothing closets, but can also help you install new utility closets, washer dryer closets. Send us an email or give us a call at 212-242-3500 to schedule your free in-home, or virtual, consultation!