Happy Holidays NYC! It's that time of year again, and we know how stressful it can be looking for that perfect gift, so we decided to help you out and compile some of our absolute favorite home gift ideas from the past year. From Homepods to Pelotons and everything in between we are here with your 2020 Home Holiday Gift Guide!
Bathroom
Low Budget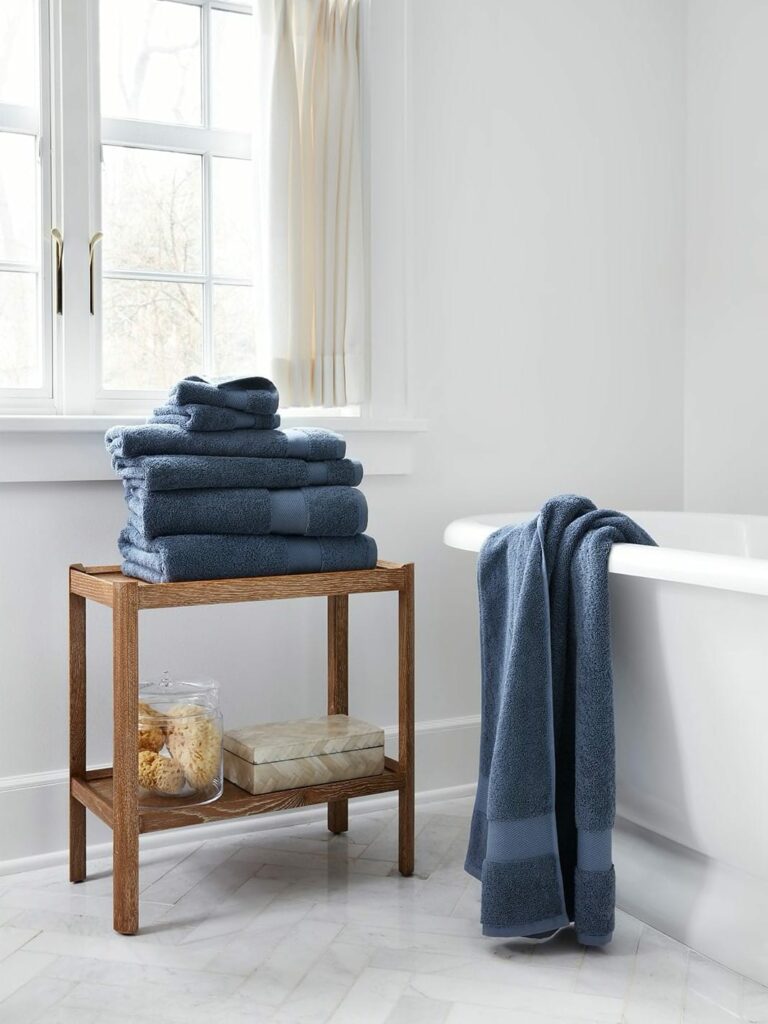 (image via. https://www.bollandbranch.com)
Plush Bath Towel Set from Boll & Branch- $125
Sometimes there is nothing better than a soft cozy towel as you step out of the shower, and the incredibly luxurious towels from Boll & Branch are the best way to do so. These oversized plush towels are made from 100% ethically sourced, organic cotton, and made with a soft low-twist yarn that fluffs up during a chemical-free tumbling process. Super dense and super durable, these towels will stand the test of time.
https://www.bollandbranch.com/products/plush-bath-towel-set
Moderate Budget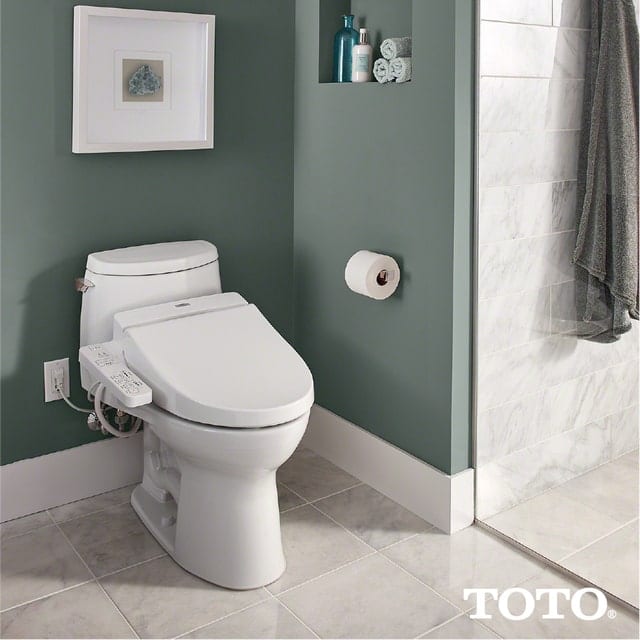 (image via. www.totousa.com)
Washlet A100 from Toto- $500
Next on our list is one of the items we have been seeing pop up in our bathroom renovations more and more, a bidet toilet seat! We've worked with Toto products for years, and they are one of the top names in bathroom fixtures and toilets so it is no surprise that one of their WASHLET'S make our list this year for ultimate luxury gifts. The WASHLET A100 is a high-tech electronic bidet seat that features a heated seat, adjustable water temperature, and adjustable water volume. This is a great entry-level WASHLET with a convenient side remote control panel to easily control the stream. This unit features gently aerated, warm water, and a dual action spray with oscillating feature. Easy to install, and very hygienic, this is a great introduction to the world of bidets with the price sitting at $500.
https://www.totousa.com/washlet-a100-elongated
High Budget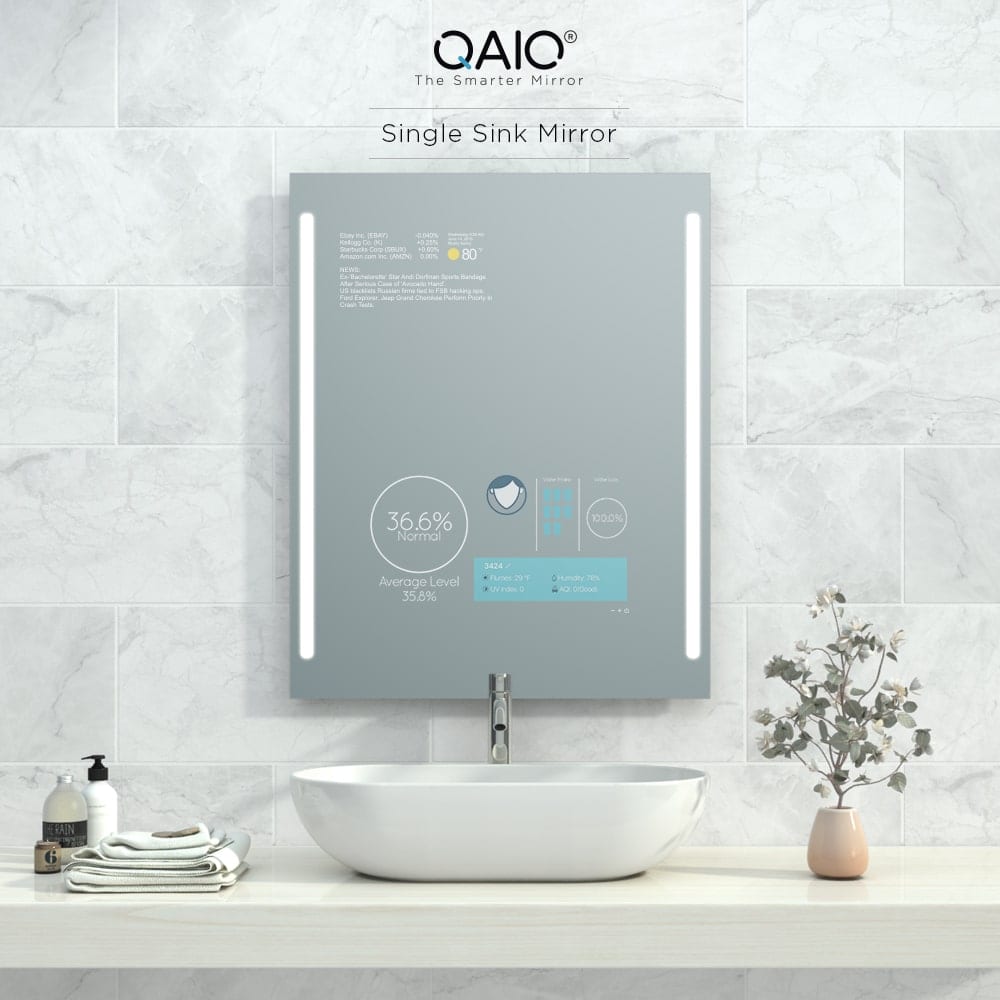 (image via. www.evervuestore.com)
Qaio Mirror- $1,430
This is absolutely a splurge item at $1,430, but totally worth it in our opinion! The Qaio Smart Mirror is one of the coolest pieces of technology that you can include in your bathroom. It includes 2 TV screens on top of a 12.1" screen for Mirror Feeds, which completely vanish when the mirror is turned off. While it comes with a remote, it is compatible with Google Assistant, Android OS, and Alexa and can be controlled verbally. Download the Mirror Feeds App to have the weather, stock info, time, news, and more appear on the screen as you get ready for your day. Connect smart devices like your shaver, toothbrush, scale and more to your Qaio Mirror to keep your phone out of the bathroom, and get ready in the morning with Live TV or unwind at night with Netflix built in. Sometimes technology can really do it all!
Kitchen
Low Budget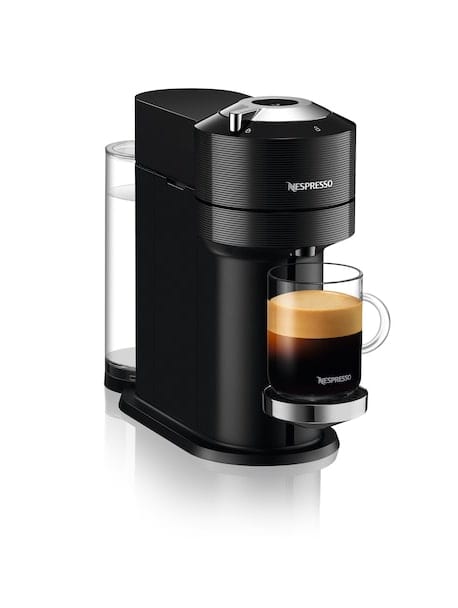 (image via. www.nespresso.com)
Nespresso Vertuo Next- $120
The perfect present for coffee lovers, the Nespresso Vertuo Next is Nespresso's latest and most compact coffee and espresso maker! Able to brew coffee (5oz, 8oz, and 14oz) a full carafe (18oz), espresso, and double espresso, this is one of the most incredible and affordable espresso makers on the market. The Nespresso Vertuo Next is the ultimate way to start your day, choose from a vast array of coffee flavor capsules, and let the machine do all the work! Automatically adjusting the temperature, pressure, coffee size, and brew time based on the capsule, you'll get the perfect cup of coffee every time!
https://www.nespresso.com/us/en/order/machines/vertuo/vertuo-next-premium-black-chrome-coffee-machine
Moderate Budget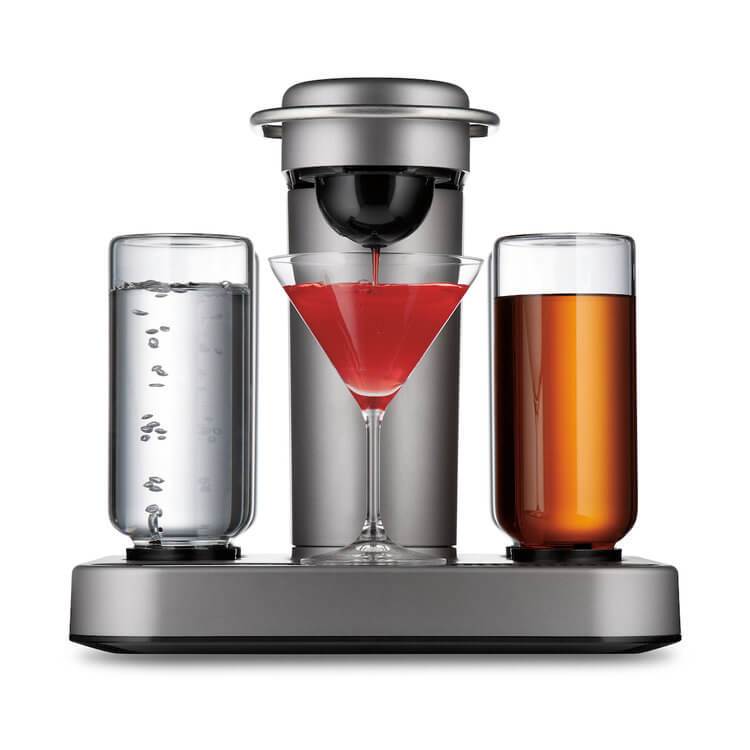 (image via. www.bartesian.com)
Bartesian Premium Cocktail Maker – $350
This is an excellent gift for the mixologists in your life. Priced at $350, this party pleaser can create endless craft cocktails in the comfort of home. Just insert a cocktail capsule into your Bartesian drink mixer machine, select your preferred strength and press mix. The system draws the spirit from the appropriate reservoir and mixes your cocktail in seconds. Bartesian offers all the benefits of a fully stocked bar, without the expense of buying juices, bitters, sours, etc. You can make favorites such as an old fashioned, whiskey sour, margaritas and more!
Large Budget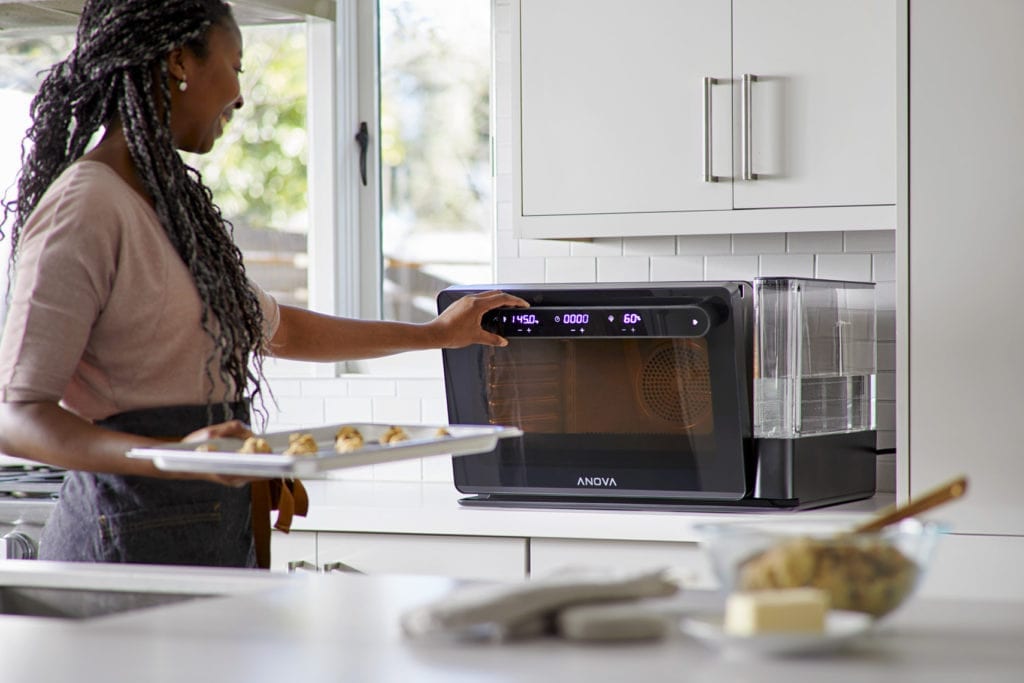 (image via. www.anovaculinary.com)
Anova oven- $600
If you are looking for the ultimate luxury kitchen appliance this season, look no further than the Anova Precision Oven! The first combi-oven with pro-level features for the home cook, the Anova Precision Oven is a countertop combi-oven for home with all the features of a professional combi-oven. Unlike normal ovens that have imprecise thermostats, Anova ovens use a combination of PID control loops, multiple temperature sensors, and a beefy onboard microprocessor to control heating to maintain an even cooking temperature. It also has a sous vide mode and steam mode, perfect for creating stunning meals and sides. While this product does sit at a higher price tag at $600, this impressive appliance definitely is worth the money!
Home
Low Budget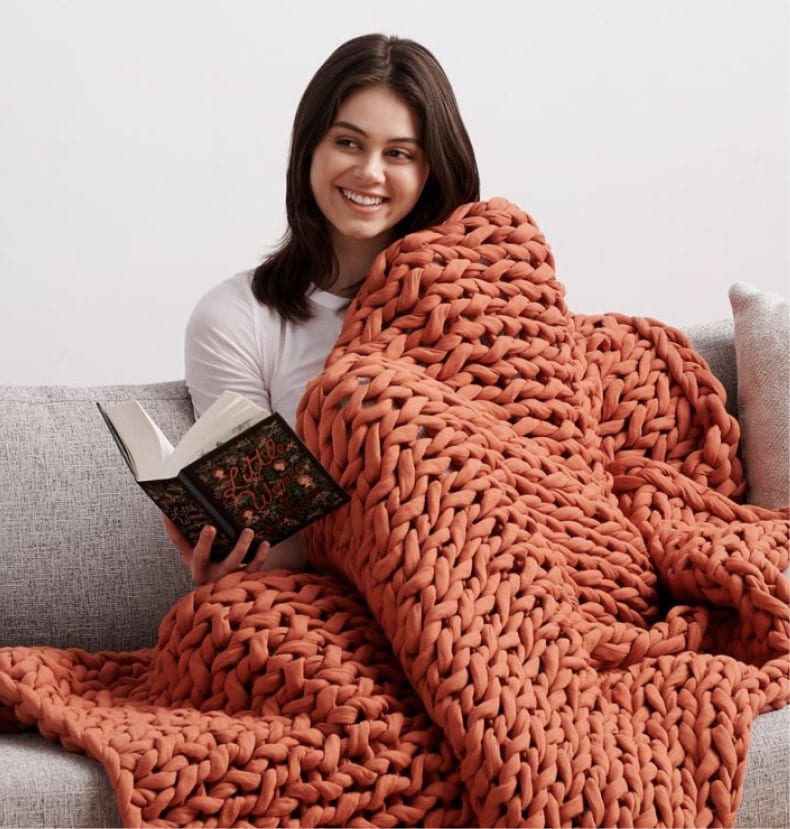 (image via. www.bearaby.com)
Bearaby Tree Napper Weighted Blanket- $270
There's nothing quite like snuggling under a weighted blanket during the winter, so why not give the present that brings both comfort AND joy this Holiday Season?! Bearaby is one of the most popular weighted blanket companies in the market right now, with products ranging from $149-$270 for kids and adults. Our personal favorite however is the classic Tree Napper. Made from 100% biodegradable Tencel (which is natural eucalyptus fibers), the blanket is super soft and super smooth, and cool to the touch. It comes in three different weights, 15, 20, and 25lbs, and a variety of relaxing colors. Weighted blankets have been proven to aid naturally deeper sleep cycles, and increase serotonin (the happy hormone) and melatonin levels, while lowering cortisol (the stress hormone)!
Moderate Budget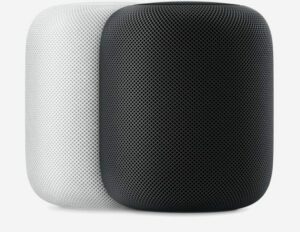 (image via. www.apple.com)
Homepod Sound System
Looking to get the ultimate cinematic experience right from your home, but don't like how traditional surround sound systems look? Apple Homepods are a great way to create a network surround sound system that looks great and that you can use individually if you want. WIth incredible sound quality, and a deep bass, it is like sitting in the middle of a movie theater right in your own home, which is great the perfect way to binge your favorite show! Fully equipped with Siri you can easily connect your homepod to your smartphone and use your voice to start timers, play music, lower the volume, and more. Each homepod costs $300 and while they can be used individually and produce great results, syncing two together really creates a perfect home theater environment!
https://www.apple.com/homepod-2018/
High Budget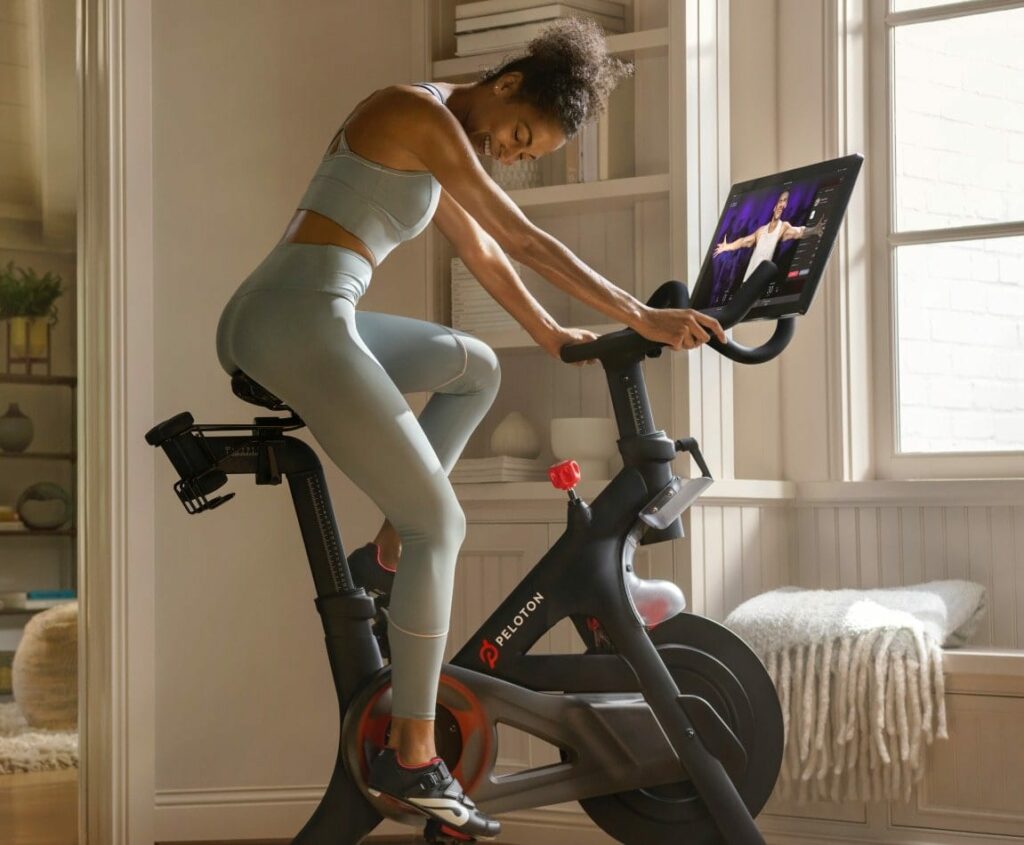 (image via. www.onepeloton.com)
Peloton Bike
The final gift on our list this year is one that we are sure you have heard a lot about this year, the Peloton Bike. With so many of us now working from home, we are trying to find ways to stay healthy and stay active within the confines of our apartments; enter the Peloton. The Peloton Bike is the ultimate experience in home cardio, and is the perfect gift for outdoor cyclists or Soul Cycle fans alike. The bike is a high end wi-fi enabled indoor bicycle that features a 22 inch touchscreen tablet. Both live and on-demand classes can be accessed through the All Access Membership for $39 a month, and it is a great way to get some cardio into your day! Physically the bike is sleek and modern, and wouldn't look like too much of an eyesore in a living room or bedroom. One of the coolest features though is the scenic rides; choose from nearly 100 different outdoor ride options for a non competitive workout without ever leaving your apartment! With great technology though does come a hefty price tag. The Peloton Bike is our most expensive gift on our gift guide, coming in at $1,895 before the All Access Membership, and any of the additional accessories.
https://www.onepeloton.com/shop/bike/bike-package?gclid=Cj0KCQiA2uH-BRCCARIsAEeef3m4L6-KIrymg36D_JH0VEq9e_C51WIEupJ_nb6Bj6CjRaK71wTcC7EaAvW6EALw_wcB
Bonus Gifts:
Ok, ok we have two more bonus gifts for you, just because we couldn't pass them up!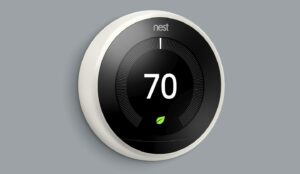 Nest Learning Thermostat- $250
(image via. www.store.google.com)
The third generation in the Nest Thermostat, features a beautiful new bold display, but most importantly helps you save energy! This thermostat is the ultimate addition to any smart home, and monitors your heating and cooling system so that if anything doesn't seem right, you'll be able to catch it early enough to fix it. The thermostat is linked to your phone and can send you alerts about issues, maintenance reminders, and can even start building a schedule for your heating and cooling based on your daily preferences! The device can be fully operated from your smartphone, and you can even change the temperature inside your home without physically being inside the house; never come home to a cold apartment again! One of our favorite features is that you can see how much energy you are saving right on your phone each day and start tracking your habits to save even more money!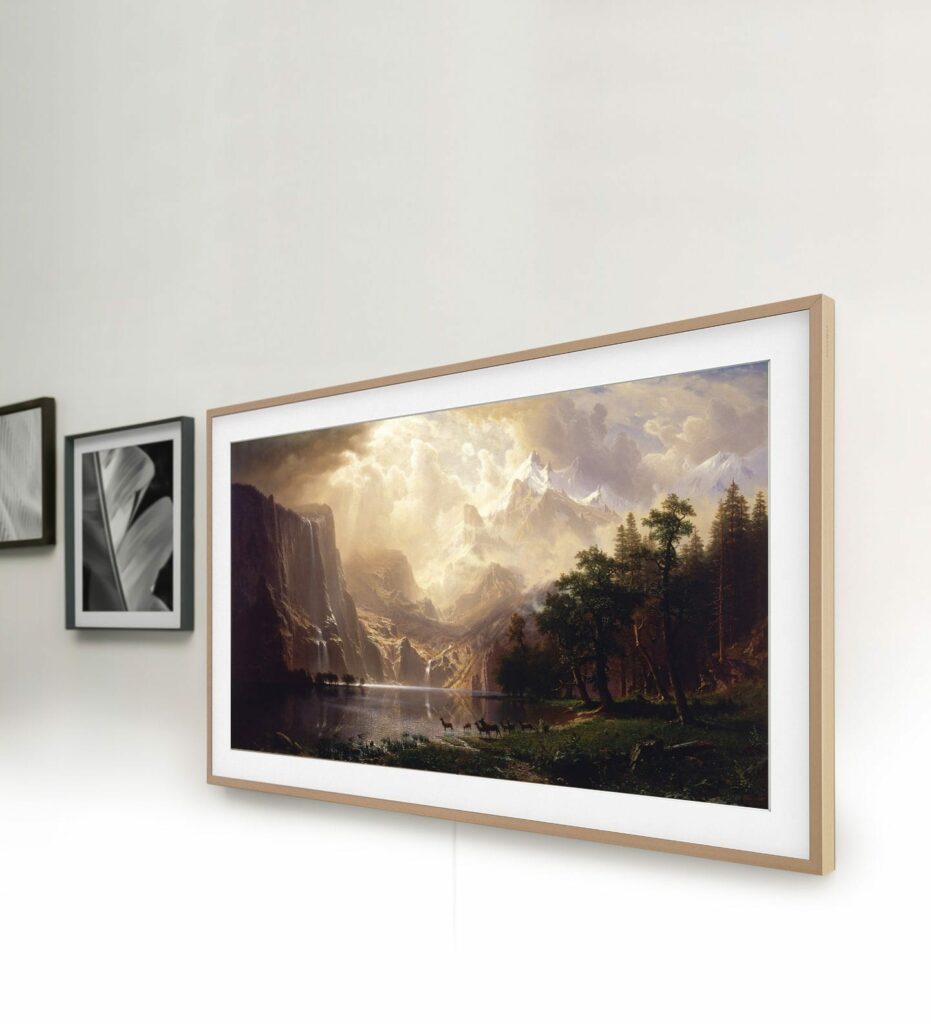 https://store.google.com/product/nest_learning_thermostat_3rd_gen
Samsung 50-inch FRAME- $1,198
(image via. www.samsung.com)
The last gift we have on our list (for real this time!) is the Samsung 50-inch FRAME! We have been seeing these all over recently, and have even had some clients ask to incorporate them into their living rooms during full apartment renovations. This unique piece of technology transforms the TV on your wall into art, allowing you to camouflage your television into something more aesthetic when you feel like it. Artwork, television, movies, and memories – The Frame showcases them all on a beautiful QLED screen. Every piece is shown in stunning 4K resolution, all while being highlighted by a beautiful, customizable bezel to compliment your home decor. The bezel of The Frame is magnetic and can easily be changed out to suit your style, and built-in motion sensors will automatically turn on your display when you walk in the room! A great gift for a new homeowner, or a newly renovated space, The Samsung Frame is just under $2,000, but work every penny!
https://www.samsung.com/us/televisions-home-theater/tvs/the-frame/50-class-the-frame-tv-qled-4k-uhd-hdr-smart-tv-2020-qn50ls03tafxza/
We hope you enjoyed our 2020 Holiday Gift Guide, and let us know if you wind up getting any of these for your loved ones! Of course the best gift to give (other than spending time together) is a consultation with our incredible NYKB team! Give the gift of a new kitchen or bathroom this year, with a completely free, no-obligation consultation with our designers. Our team has worked in the NYC area for over two decades, and has brought incredible renovations to kitchens and bathrooms of every size and shape. Each space we create is 100% custom and designed with our clients needs in mind. So if you know someone who is looking to upgrade their home (or if you are!) get in touch with us today to schedule an in home OR virtual consultation at your convenience!
We hope everyone has a very happy holiday season this year, and we cannot wait to see you all in 2021!