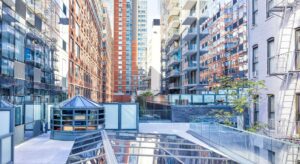 As a company focused on making our client's home renovation dreams a reality, we make it our business to keep our finger on the pulse of the home industry. For this reason, we partnered with Langdon Title to host continuing education classes for real estate brokers in our Flatiron showroom. In January of 2020, Gary Belyalovsy, Esq. partner at Gary Belyalovsky P.C., and Yanis Gelfman, Home Lending Officer at Citi, conducted an insightful class on the differences between buying a previously owned condominium and a newly constructed one. 
Here are among the highlights of what they shared:
Always Consider How to Protect Your Buyer!
As any great real estate attorney or mortgage lender knows, having a mortgage contingency in place is a must for any buyer who is obtaining financing for their home purchase. Having one in place protects the buyer in the event that their financing is not secured within the expected time-frame. According to Belyalovsky, who is a Real Estate Attorney with a practice in New York City, adding an appraisal contingency can provide additional protection against low appraisals in certain cases. If your buyer faces a scenario where the appraisal comes back below the contract price, the presence of an appraisal contingency in the mortgage provides your buyer the option to renegotiate the price. This can make the difference between saving the transaction or being forced to cancel. Something to keep in mind here is that mortgage contingencies may already include an appraisal contingency, but that is not always the case.
Creative Negotiation Tools for Condominium Resales
Seller concessions, also known as seller contributions, are useful in that they assist the buyer with closing costs in condominium resales. Seller concessions are an agreement where the seller agrees to pay certain closing costs of the buyer. Things to keep in mind when agreeing to seller concessions, according to Belyalovsky, is that the property being sold needs to appraise for the grossed up value. Doing so helps the buyer to be able to finance their closing costs, and bring less funds to the closing. 
Another way to reduce closing costs in condominium resales is through Purchase CEMA's (Purchase Consolidation Extension Modification Agreement). Purchase CEMA's are used in New York when a property has an existing mortgage at the time of purchase, and the buyer is taking on a mortgage to purchase a condo or house. In those instances, a Purchase CEMA can be used to save the New York State mortgage recording tax, which can be as high as 1.925% of the loan amount. With the median home price currently sitting at $690,000, having a Purchase CEMA in place can result in significant savings for your buyer!
Creative Negotiation Tools for New Developments
Sponsor credits, or seller concessions, can help buyers with closing costs when purchasing a new development. Sponsor credits are offered in instances where a seller is highly motivated to sell, and wants to entice the buyer to close the deal. Sponsor credits come into play in transactions where are a seller wants to motivate a buyer, and where a buyer is looking to cut the cost of closing on a home. Theoretically, sponsor credits can be a good tool for both sellers and buyers. However, because sponsor credits have implications for both the buyer and the seller, it is important to work closely with an experienced real estate attorney to make sure that the terms of the credit are properly ironed out.
Gary Belyalovsky is a Real Estate Attorney practicing in New York City, for more information he can be reached info@nyrelawyer.com. Yanis Gelfman is a Home Lending Officer at Citi and can be reached at yanis.gelfman@citi.com.
If you're a Real Estate Broker in New York City in need of continuing education credits, take a look at the schedule for continuing education classes at Langdon Title on the link here.