Are There ADA Requirements for Apartments in NYC?
Ensuring accessible living spaces in bustling New York City is not just an ethical commitment, it's a legal one. But, what actually are the ADA requirements for apartments in NYC? Let's unpack this further.
A Brief Overview of ADA Compliance
The Americans with Disabilities Act (ADA) published by the Department of Justice (DOJ) in September 2010, is a federal law ensuring that persons with disabilities have equal access to various public and private places, including housing units.
NYC ADA Compliance as it Pertains to Apartments
In the context of New York City apartments, ADA compliance focuses on guaranteeing accessible and adaptable living environments. This includes spaces that can be easily modified to cater to the varying needs of all inhabitants, regardless of any disabilities they might have.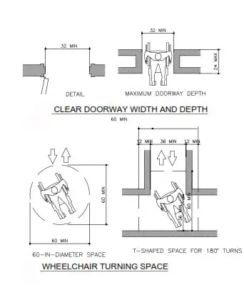 NYC ADA Compliance Policy: Clear doorway width and depth, Wheelchair turning space
Regulations and ADA Requirements for Apartment Buildings and Apartments
Here is a full list of relevant ADA-compliant apartment requirements:
Clearance: Ensuring unhindered movement, especially for wheelchair users. This includes stipulated spaces for doorways, height, and positioning of switches, sinks, and toilets.
Adaptability: Features such as adjustable kitchen counter heights, strategic placement of grab bars, and easily accessible sinks.
Entrance and Exit Points: No barriers or obstructions at entrances and exits to allow easy access.
Some key areas to pay attention to, including extra costs, are:
Bathrooms: Proper height for fixtures, addition of grab bars, and non-slip floors. Bathroom renovation costs can range, but investing in ADA compliance in NYC typically sees higher ROI.
Kitchens: Adjustable counter heights and accessible sinks can come at an added cost but improve the apartment's overall accessibility.
How to Attain Compliance
These are the steps to follow to find out about NYC ADA compliance requirements, and how to put it into practice in your apartment.
Consultation: Engage with experts like NYKB, New York City's leading home remodeling contractors, for comprehensive guidance and advice.
Review Guidelines: Visit NYC's accessibility in residential buildings guidelines and ADA's official guidelines for detailed requirements.
Implementation: Ensure that all renovations or new constructions strictly adhere to the established requirements.
Penalties for Non-compliance
Do apartments have to be ADA compliant? In short, yes. Failing to comply with New York State ADA requirements can result in hefty fines, legal consequences, and potential civil litigation. Penalties vary based on the violation's nature and severity, but they underscore the importance of understanding and implementing ADA requirements properly.
Benefits of Complying
Higher Resale Value: ADA-compliant apartments, especially in older buildings, often command a higher resale value.
Inclusivity: Ensuring accessibility promotes an inclusive living environment for all residents.
Legal Protection: Adherence to ADA standards protects property owners from potential legal repercussions.
Which Housing Units in NYC Need ADA Compliance?
Almost all new constructions and major renovations in New York City need to adhere to ADA regulations. However, there are nuances:
Lists of Relevant Units
New Constructions: All new buildings must be ADA compliant.
Major Renovations: If an apartment undergoes significant remodeling, it must meet ADA standards.
Older Buildings: Buildings constructed before 1987 may have exemptions. Owners should consult with their building's architect or the official ADA guidelines to clarify.
Easily Meet the ADA Requirements for Apartments
Are apartments in NYC required to be ADA compliant? The answer is a resounding yes, for most. With changing times and a more inclusive mindset, ADA compliance isn't just a regulatory requisite — it's a reflection of NYC's commitment to ensuring equal living spaces for all. So while an apartment renovation in NYC is a rewarding venture, it requires careful consideration of the compliance process. By collaborating with experts like NYKB, and adhering to regulations, you can achieve a successful and compliant renovation that enhances both your living space and property value.
At NYKB, we're ready to assist you in creating a beautiful kitchen or bath renovation while fully complying with NYC ADA requirements for apartments. With over 20 years of experience improving homes in New York, we at NYKB have what it takes to make your home perfect. For expert guidance and a seamless remodeling experience, reach out today.