As 2018, winds down and comes to a close, our design experts have already started thinking about the trends to expect in the new year – especially those that will dominate Manhattan kitchens. Below are some looks to consider while you start to plan for your 2019 kitchen renovation in NYC.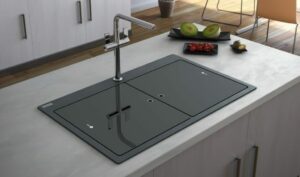 Covered kitchen sinks
Great for cleverly adding more prep and counter space instantly, sliding covered sinks also boast the double-duty benefit of concealing a sink full of dishes waiting to be cleaned.
Contrasting textures
Don't be afraid to combine contrasting textures and sleek finishes when planning your Manhattan kitchen renovation. Try to visualize mirrored backsplashes with a highly-polished, chunky Calcutta marble countertops, or cupboards with textured bronze inlays and a matte front with sandblasted timber for a layered more urban vibe.
Matte kitchen
I just love the slick touch of matte finishes. And bonus, they are much easier to keep clean and are certain to not go out of style anytime soon – a classic look for sure.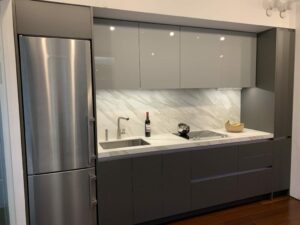 Minimal mindfulness
To transition your Manhattan condo to a more modern contemporary look, consider updating your kitchen with clean-lined cabinetry. Eliminate molding and heavy finishes, and go for timeless straight lines.
Under counter appliance – space saver!
As kitchen design ideas of 2019 call for clearing spots above lower cabinetry, opt for under the counter appliances like microwaves and the ilk to keep them out of sight as upper spots become more vacant.
Concrete finishes
In NYC we've seen our fair share of concrete countertops and flooring, as they're great options for a budget-friendly kitchen and gives an instantly modern yet industrial look.
Smart kitchen ideas
As technology continues to advance and enhance our daily lives, it's no surprise that the movement made its way into the heart of the home. From remote light controls, to smart screen display refrigerators and charging stations, there are plenty of smart updates to take advantage of. This trend is here to stay with every techy update that hits the market.
Glass shelves
I love this look! I recently added this in my kitchen. It's a sophisticated alternative to bulky wooden open shelving, glass shelves are much easier to clean, and looks more luxurious than unfinished wooden shelves.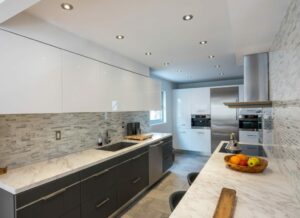 Mixed metal and finishes
For an off-kilter layered look that's still rich and layered, combine different metals such as copper hardware, brass fixtures, and silver finishes for a more laid back, yet still elegant statement.
As always we would love to hear from you! Share your tips and photos in the comments below. If you have any questions about your next renovation, please free to email us at info@nykb.com or better yet give us a call at 212-242-3500.
Come visit our showroom in the Flat Iron District, our address is 8 W25th St. New York, NY 10010; there you will find a variety of different kitchen and baths set up for your inspiration.