We live in a time where everything needs to be charged, such as our smartphones, tablets, and laptops. Local building codes often state that there must be an electrical outlet every 4 feet in the kitchen. Every outlet is vital in your home, but they can be an eyesore in your kitchen. White outlets are seemingly the color of choice for electricians — ugh. Gross. So, below are some of my ideas to help camouflage the outlets in the heart of your home.
1.) Install under cabinets plug molding
Showcase your backsplash without having the eyesore of an awkward outlet; I recommend installing plug molding or a thin power strip beneath the wall cabinets – ask about this when choosing your kitchen cabinet design. That will eliminate the rhythm of your backsplash and also give you more outlets – just hidden.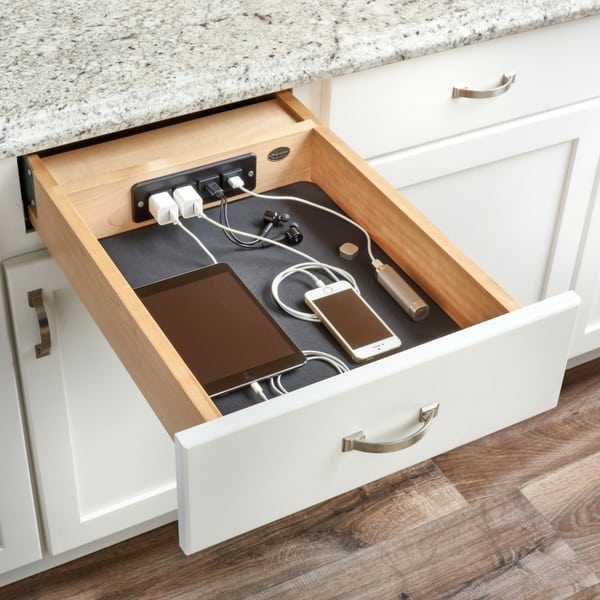 2.) Color coordinate your outlets
Glaring white outlets in a non-white backsplash detracts from the beauty of the tile. You can avoid this dilemma by organizing your outlets and wall plates with the color of your backsplash tile. There are many options available; just ask. Colored outlets and wall plates are available from your local lighting and big-box stores.
3.) Create a charging station
A plethora of devices need charging these days. Create a docking drawer with a hidden charge station in your kitchen so that you can keep your smartphones, tablets, and other gadgets out of sight – especially during family dinner time.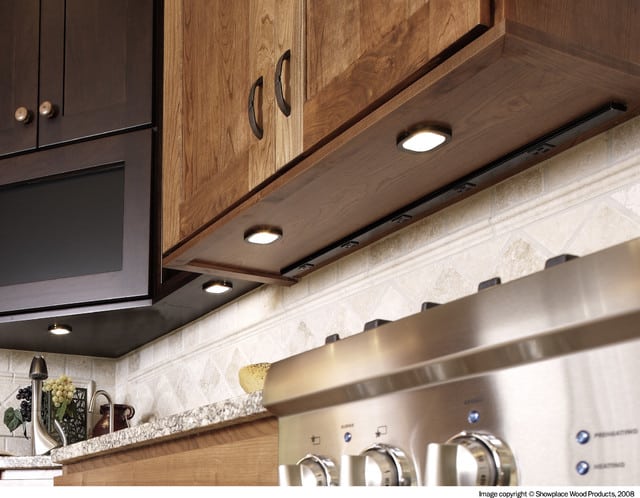 4.) Pop-up Outlet
Lastly, my favorite solution option for an outlet-free backsplash is a pop-up outlet that disappears into the countertop. These are especially useful in a kitchen where there are no wall cabinets to hide a plug molding strip – which is very common in the New York metro area.
I encourage you to stop by our showroom; we recommend appointments but walk-ins are welcome! Walk around our variety of different kitchen and bathroom displays. If you need additional assistance or resources, my team at NYKB Kitchen & Bath would be happy to answer these questions for you. Just give us a call at (212) 242-3500 or fill out our contact form.