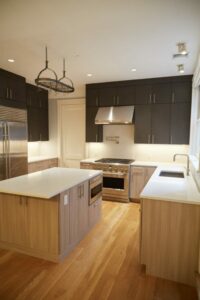 Chippewa has an article citing "6 Steps" to making a dream contemporary kitchen. We asked our owner and President, Perry Hiiman, his thoughts of its given criteria. Being that Mr. Hiiman is an expert on contemporary kitchens in his own right, he was requested to give one sentence answers to these one sentence steps and then a brief critique.  And here we go:
1) Just say "no" to clutter. I agree because clutter-free designs are easier to clean.
2) Minimize detail; play up consistency. This means to have a cleaner look – contemporary kitchens please the eye.
3) Make the details you have really count. It should go without saying that all details of a kitchen count very much! Who would settle for a half-hearted kitchen design? [Perry's emotional response overrode the "one sentence reply" rule.]
4) Use only quality materials. Quality materials last longer and, along with many other things in life, you get what you pay for.
5) Go for a few "big" elements instead of lots of small ones. "Lots" of small elements is the recipe for disaster in kitchen design.
6) Forget about fashion forward. That's right, you're kitchen is about you and your needs and not about "must have" accessories.
And how does Perry feel about these suggestions a whole?  "It's a good start."
Thanks, Perry.