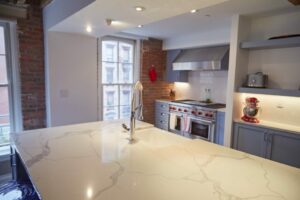 1) Thoughtful design – There are three big components in a kitchen: the stove, the sink, and the refrigerator.  They should be arranged for ease of access for the primary cook, or cooks, of the kitchen.  Also, kitchens that serve bigger households should have "station" space; that is, room enough for more than one to prepare meals.
2) Quality countertops – Durability matters.  The countertop will take the most beating ('cept for eggs) of anything in your kitchen.  Customers of NYKB rave about the gorgeous quartz Caesarstone countertops.
3) Storage – Kitchens do not mind themselves and proper storage is essential.  If a homeowner isn't careful, clutter will become an issue of domestic stress and organized cabinetry design can help nip clutter before it starts.  Good designers, the kind found at NYKB, know good cabinetry and employ ingenuity to maximize space in creating an orderly kitchen.
4) Pleasing to the eye – Gone are the days when kitchens were rooms of function hidden behind closed doors.  Our households are more open today and kitchens are an extension of the living place.  Fortunately, kitchen design is accommodative to this trend and beautiful kitchens are yours for the taking.  Come into an NYKB showroom and see for yourself!