Are you thinking about renovating your kitchen this year or prepping for next? Hear directly from our designers at NYKB on the latest NYC trends for 2019 and 2020.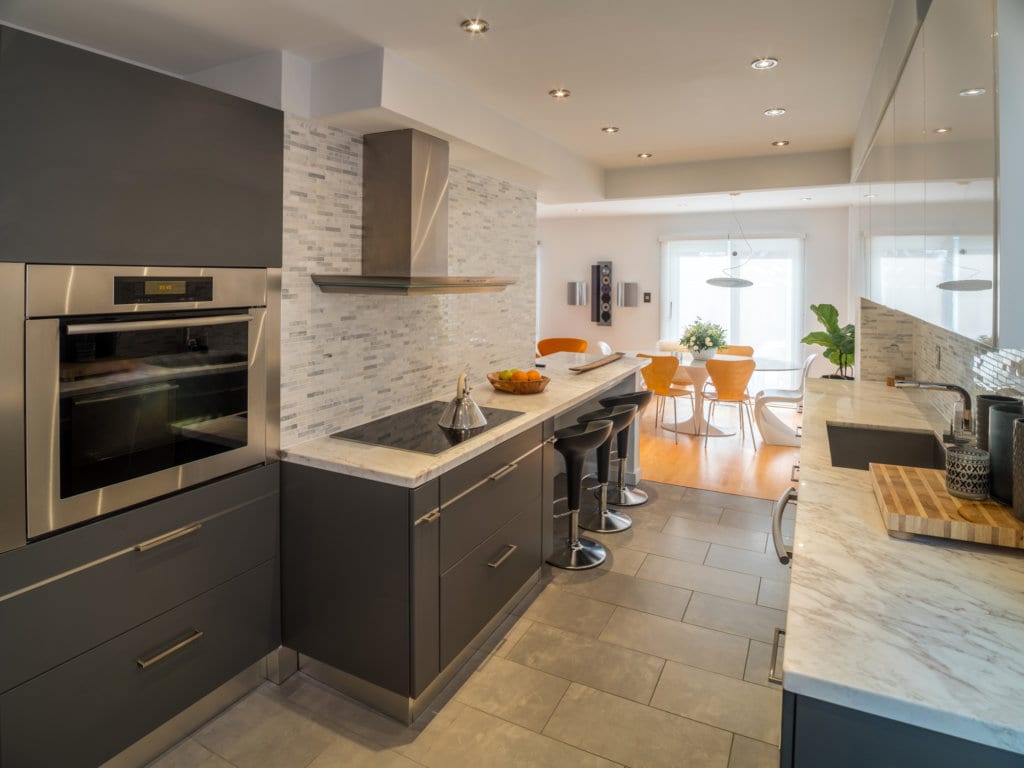 Matte Finish
The matte textured kitchen is an upcoming contemporary look New Yorkers are raving about. You will see more of this style in 2020! If you're interested in this look for your Manhattan home now is the time to get in front of this look and become a trendsetter to all your family and friends. As well as get the most lifespan of this latest style.
Anthony Ziccardi, NYKB Designer, says: "Matte is very popular with my clients. I think it's fit for doing smaller things like fixtures, as a pose to doing a whole kitchen because it will give the homeowner flexibility for changing things up in the future"
Wood Materials
Wood brings a warmer feel to any room. Adding wood in your home is an appealing material for most; especially when it comes to hardwood floors – it's become a staple in every high-end home. But have you ever thought of adding wood closer to your eye level, like countertops? By adding wood tones to your kitchen, you can have the best of both worlds; a modern contemporary kitchen that doesn't feel so cold.
Anthony Ziccardi, NYKB Designer, says: "To achieve the wood look without the maintenance, many will choose to go with malameme (a manufactured material), which looks a lot like real wood. It has more of a modern feel as a pose to using a natural wood material that would give more of a traditional look."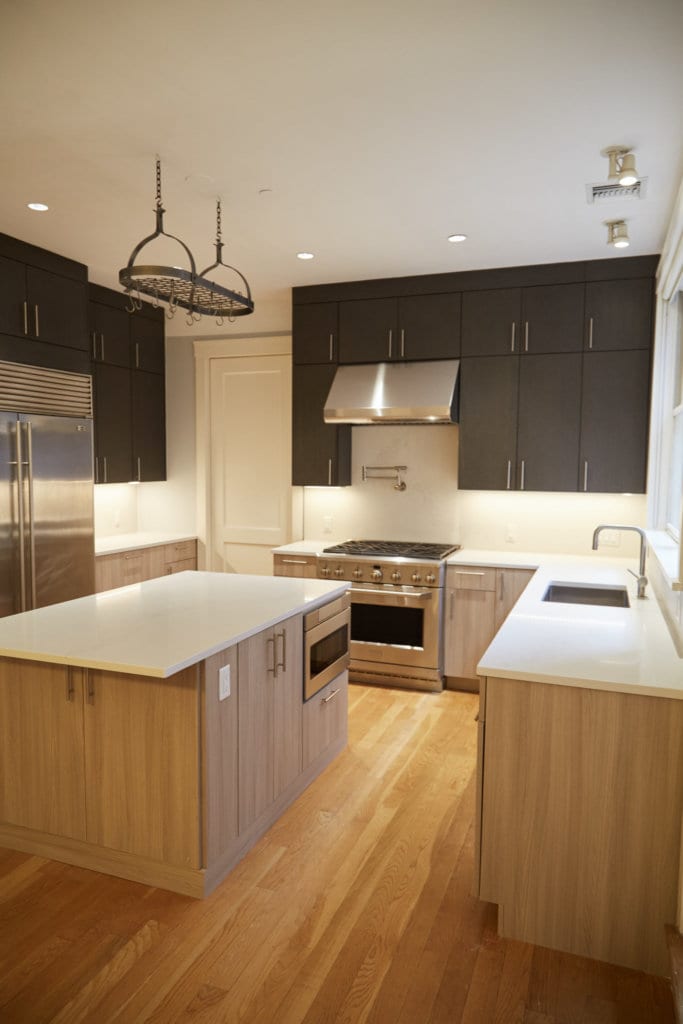 Stone
Manufactured Quartz is on high demand for those who are looking for low maintenance materials – which seems about 90% of New Yorkers. Manufactured Quartz provides the best of both worlds; the look and feel of natural stone, with no maintenance. For an investment purpose doing Quartz is an excellent option because of the sustainable quality that will last. If you are one that prefers natural stone; black granite has been a showstopper in NYC kitchens.
Anthony Ziccardi, NYKB Designer, says: "Quartz can be made to look like anything from concrete to natural marble. When doing a renovation and spending a lot of money, you want to make sure it's of quality and that it will last."
Contrasting Textures
Depending on whether you want a rugged or sleek look, different concrete or marble looks will give you the style you want. One needs to be crafty while varying up textures because you have to be conscious and precise not to overwhelm the design. Never be afraid to be creative with your design!
Nick Kaess, NYKB Senior Designer, says: "Typically if you're going for a sleek glossy modern kitchen, throwing in a rugged stone countertop will help by turning the attention off the bad light reflection from the gloss."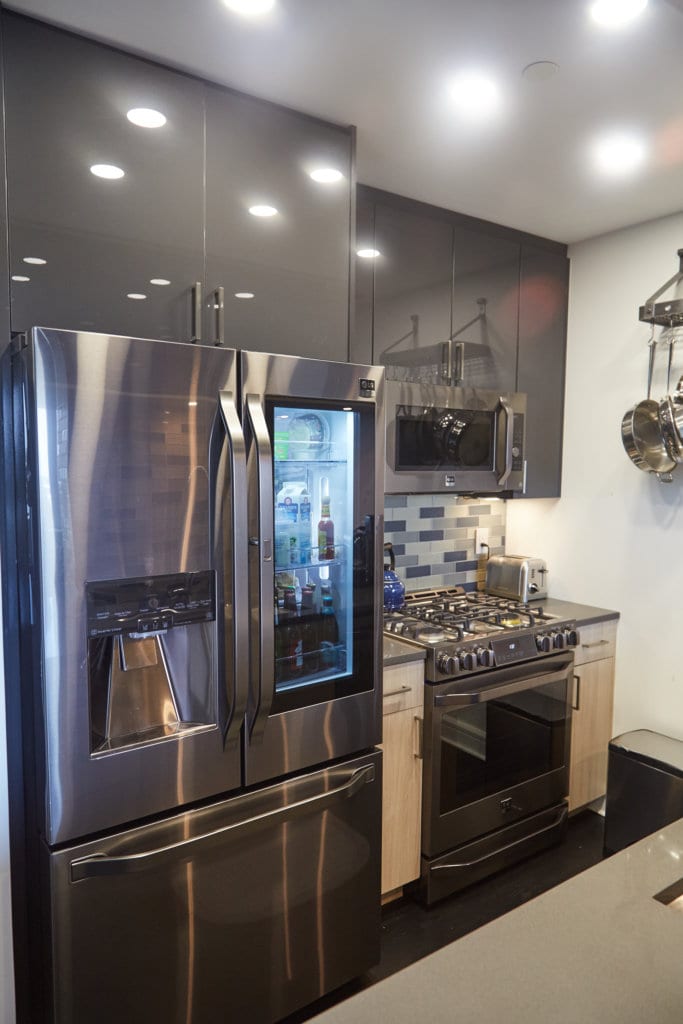 Digital Technology
Besides the cost factor, digital technology being incorporated in kitchen design is on everyone's "want list." Some of the top digital appliances include induction cooktops, touch screen smart fridges & ovens. The power of technology and smartphones has changed the game for almost every business out there. With the convenience of your smartphone, people can control anything from kitchen appliances, faucets, and lighting moods.
Anthony Ziccardi, NYKB Designer, says: "Technology has come a long way. By just looking at your phone, it can update you on what you need to buy at the grocery store. It makes shopping a more seamless errand."
If you have questions on any of the materials listed above, send us a quick email, info@nykb.com. We encourage you to start your process by coming into our 8,000 square foot kitchen and bath showroom in the Flatiron district. The NYKB showroom is located on 8 West 25th St. If you can't make it into our showroom, feel free to contact us by email info@nykb.com or by phone 212-242-3500 to schedule a free (no obligation) one-on-one design consultation.
We look forward to seeing you!!