We are big dog lovers here at NYKB and keeping your pet safe during your home remodel is very important to us. Here are a few things to consider when planning your next NYC home renovation.
Your Dog's Routine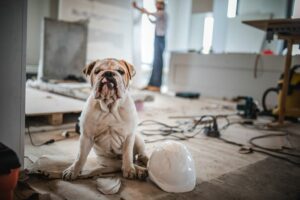 As you may already know dogs are creatures of habit, they find their comfort in routines. When starting a home remodel project, that method goes out the window which can create anxiety in your pet. We highly recommend you stick to your dog's daily routine as close as possible. If the area that your dog usually sleeps and eats will go under construction, we recommend moving your pet's food and encourage your dog to relax in another location that won't be disrupted during your home renovation, giving your dog a new routine that will be easy to maintain during construction.
Toxins and Danger
Keep top of mind that mold or asbestos might be uncovered during your home renovation. If it's toxic to humans, then it's most definitely toxic for our pets. It doesn't take much of a dangerous substance to harm a dog; they have smaller bodies with less lung capacity. Also, be aware of the products being used in your home – ask if they are safe for pets and confirm with a quick google search to be sure. Do a thorough sweep at the end of each renovation day; look for loose wires, nails, staples, bits of glass or wood – anything that might cause harm to your dog. Set yourself a reminder to be safe. Also be clear about where workers can throw the garbage from their lunches. Dispose of if it properly so your dog doesn't get into any wrappers or leftover which might make them sick.
Containment/Safe Place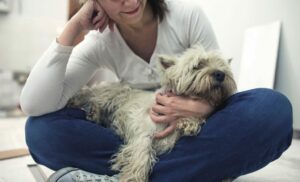 To keep your dog safe during the renovations – you are going to need a way to contain them.
Ideally, a room as far as away as possible from the renovation, with a door that you can
securely close. If it's not a room that your dog is used to spending time in; start making a
positive association with the area before the renovations take place. Make the area a positive
environment, with some special treats or let him/her have dinner in that room. As soon as your
pet is done eating in there, then let him/her out. The idea is that this will be a safe place for
your pet, away from any dangers during your home renovation. You will be thankful your dog
has a safe place to stay out of the mess, wet paint, freshly varnished floors, power tools or
various electrical cords.
Lastly, keep your family and neighbors informed that you are leaving your dog in a safe room while your home is undergoing renovations. Having a support system is vital in these situations.
If you are in the neighborhood walking your dog, you can always find a bowl of fresh water for our four-legged friends. We love dogie visits here at NYKB! If you have any questions, need additional assistance or resources when it comes to renovating in NYC, my team at NYKB Kitchen & Bath would be happy to answer. Just give us a call at (212) 242-3500 or fill out our contact form.