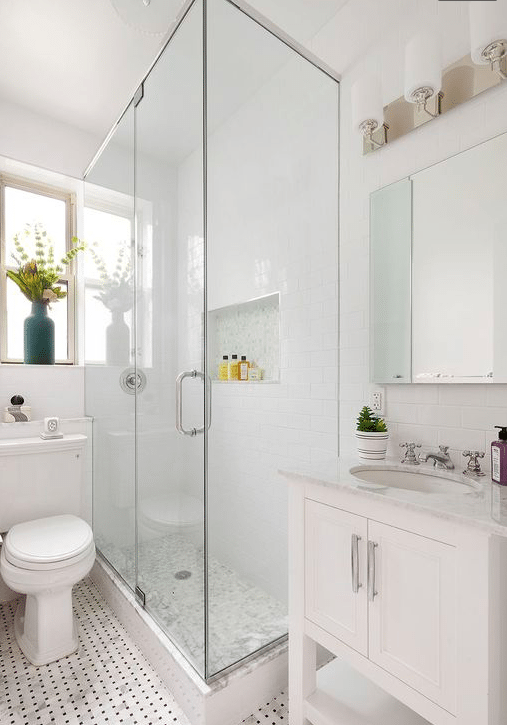 A bathroom doesn't have to be large to have great style and function. New York Kitchen and Bath (NYKB) are experts is maximizing small spaces. Below are 4 tips to consider when renovating your Manhattan bathroom.
When it comes to selecting your bathroom materials pay close attention to your toilet options. For example, a wall-hung toilet option will give you more square footage in your bathroom. This type of toilet is mounted on the wall and eliminates need for foot or base. Here are a few things to consider when choosing this type of toilet; Requires a thicker wall for mounting, may cost more to purchase, drain for toilet must be on wall rather than floor.
This toilet is the new trend in New York City bathrooms and we are certain that it will continue its popularity through the years.
If you are torn on deciding to convert your tub to a shower or not, the answer is yes! Let's face it, your current bathtub is not the sexiest place in your home and a pain to keep clean.  By transiting your tub to a stand-up shower will elevate the space and give you the allusion of gaining additional square footage in your bathroom. Making you bathroom a greater experience for you and your guests. I'm sure you have done your research and checked out the cool walk-in showers on Pinterest, and Houzz. You say, "these showers are really cool – but it's not happening in my small 5' 8' bathroom." Well I'm here to tell you that you can. Our NYKB designers can show you how to make your shower dreams into reality.
Open wall space in a bathroom is prime real estate and rarely used. One thing to try is adding shelving that is deeper at the bottom and shallower at the top is an efficient use of space that feel less bulky or obtrusive.
Another tip, is to incorporate a bathroom wall niche to create more storage.  Wall niches don't only need to be placed in the shower. These unique pieces of bathroom design can be custom fitted to virtually any space, from the tiniest and most cramped bathroom to the largest and most luxurious one.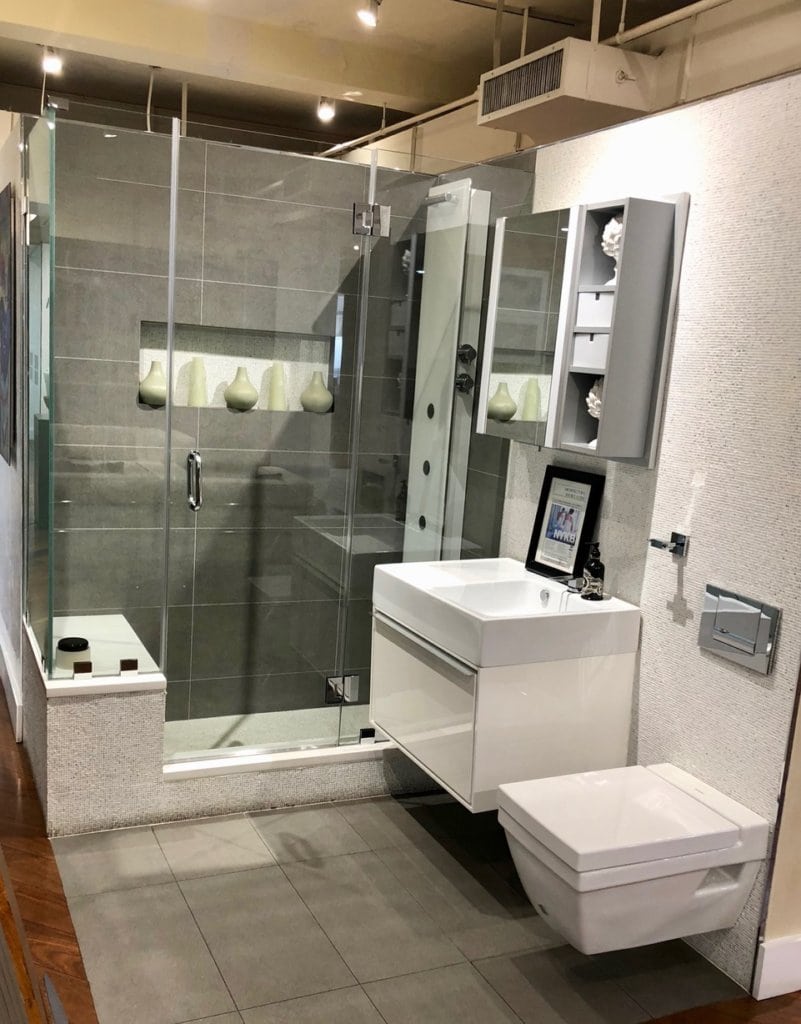 Lastly, don't be afraid of color in your small Manhattan bathroom. Step out of your comfort zone and try one of these bright and bold color palettes that will add some spunk and style to your Manhattan bathroom. Here is the top 4 bathroom colors for 2018;
Copper

Magenta

Powder Blue

Plum 
I encourage you to stop by our showroom! We have a variety of small bathroom displays you can look at. There we have three cabinet lines; UltraCraft, Showplace Cabinetry and Bauformat. All come with a variety of different profiles, wood type and color options. In the event that you need additional assistance or resources, my team at NYKB Kitchen & Bath would be happy to answer these questions for you. Just give us a call at (212) 242-3500 or fill out our contact form.[/vc_column_text][/vc_column][/vc_row]